As a business owner, you understand the importance of screening potential employees and hiring the right people. The office cleaning service you contract with should be no exception. When you're looking for a qualified company to take on the job of commercial office cleaning at your property, look no further than Aunt Margie's Cleaning Service. We work with local businesses throughout the Albany area, providing office building cleaning services from dusting and vacuuming to mopping and cleaning bathrooms. You can't afford to let your office space become dirty or disheveled. Call us today to discuss your needs for commercial cleaning service!
When it comes to office cleaning services, bigger is not necessarily better. At Aunt Margie's Cleaning Service, our size means more personalized attention to your requirements for professional office cleaning service. We'll go the extra mile to clean your office, your way. Our commercial office cleaning can include:
Thorough dusting
Light woodwork cleaning
Vacuuming carpets
Cleaning kitchens
Tidying break rooms
Mopping floors
Washing dishes
Sanitizing bathrooms
Cleaning stairways
And more!
While most small- to medium-sized businesses seldom require daily cleaning, you might want to consider setting up a weekly or bi-monthly schedule for your office cleaning services. Those options seem to work well for our Albany-area commercial customers, enabling them to enlist our office building cleaning services on a long-term basis for the precise housekeeping help they need. As for the exact hours we'll be in your building, that's entirely up to you. We'll match the time of our office cleaning service to the most convenient time for you. Evenings and weekends are no problem for us, if that's what's best for you and your hours of operation.
Reliable Commercial Cleaning Service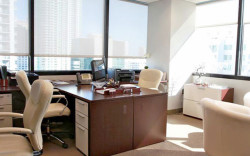 When you contact Aunt Margie's Cleaning Service in regard to your commercial office cleaning, we'll be happy to sit down with you and go over your needs in person. That way, we can take a look at your commercial space and provide you with an accurate price quote right up front. We want you to be completely comfortable with the terms and costs of your office cleaning services before any contracts are signed. Customer satisfaction is a top priority for our locally owned office cleaning service. If we overlook something in the course of our cleaning, we'll even come back and clean it again at no additional charge.
Green Office Cleaning Service
Interested in green cleaning services for your local business? Just let us know! At your request, Aunt Margie's Cleaning Service will use only eco-friendly products for your office building cleaning. Call us today with your special requests, including green cleaning services!